February 2017 Meeting Minutes
Minutes of the Meeting of Shenandoah Valley Gem and Mineral Society
Meeting date: February 13th, 2017

Intro:
President Mike Pabst called the meeting to order. There were 28 members and 5 visitors present.

Old Business:
1. The field trip to JMU was a lot of fun, and Dr. Kearns got to show off some of the new mineral acquisitions in the museum.

2. Wayne Petersen said there are a few rooms left for the KY overnight trip. Members need to make their reservations as soon as possible.

3. Dues should be paid to the club for this calendar year.

❖ ❖ ❖

New Business:
1. Wayne has made contact with a lady who has lived in Malaysia, but is presently in the George Washington forest area. He is trying to plan a summer visit to her home, where she has literally tons of slabs of jasper, agate and tiger's eye suitable for cutting. He will update us as he gets more information. Wayne had a sample of one of the most recently discovered minerals, Chalcedony, that looks like clusters of tiny grapes with green accents. This material is from the Mamuju area, Sulawesi Barat province, Sulawesi, Indonesia. This is a rare form for chalcedony, and there is only a small amount of it, which will increase its value immensely. Click on this link to Mindat to see a photo of another piece of this beautiful "grape chalcedony": www.mindat.org/photo-779505.html.

2. Mike gave some information about "lapidary club internet thieves" who try to get money from mineral clubs. He also reminded us of the federal laws about collecting samples on public lands.

3. Scott Duresky noted that next month's meeting will be the second version of his talk on the now-closed Rutherford mine in Amelia County, VA. He and Mike will be making a presentation to the Atlantic Micromounters Conference in Alexandria, VA, so they will be doing a preview of that presentation. Scott has been researching this material for over 5 years, and the information will be in a future publication.

4. Charlie Rhodes said he will be opening the lapidary shop 2 weeks after the regular time (which is always the Saturday following the monthly meeting at 9 am) on a monthly basis. This will allow more members access to our equipment.

Program Report:
Mike and Karen made a recent trip to Paris, France where they got to visit a couple of world-renowned mineral museums.

He showed some photographs of some of the largest mineral specimens to be in any collection anywhere in the world.

They visited the National Museum of Natural History (mineral section) and saw some enormous specimens, which also included some items from centuries ago.

The museum opened in 1635, and included a 136 carat faceted sapphire of Louis XIV, the very first study specimen (type specimen) of dioptase from 1797, samples from the Father of Mineralogy – Rene Just Hauy, a 20" sample of crocoite, a 1 foot sample of gold filigree, and many others. Many of the world's old-time mineralogists have studied here.

Unfortunately, no cameras were allowed in the University of Pierre and Marie Curie, but Mike overcame that obstacle by using scanned photos from a book published by Nellie Bariand (who took photos of micros using a regular film camera in the 1960's).

Those photos were beautiful and included a mineral with 6 protruding pyramids extending out of a central cube – cumengeite epitaxal on boleite – 3.5 cm across.

The third museum of the School of Mines was closed, so the members suggested he go again so we can enjoy more of his photos!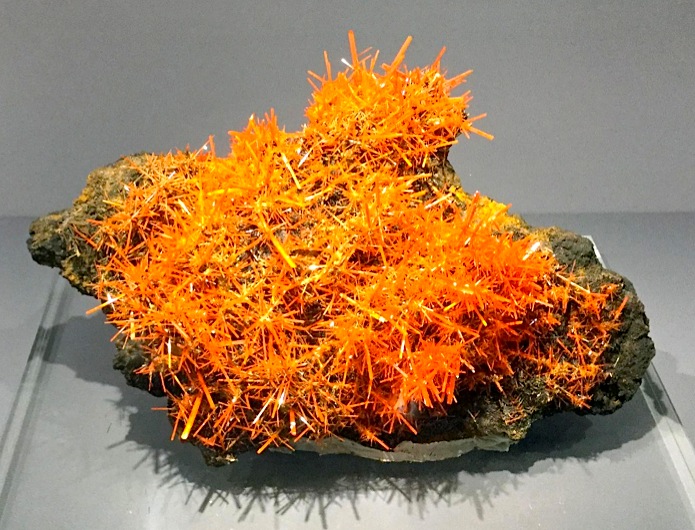 Crocoite (PbCrO4) from Dundas, Tasmania from the National Museum of Natural History, Paris. Photo by Michael Pabst.


Field Trip Info: Check out information here. Wayne is working on some field trips and info for us. More information was sent to members on 2/27/2016 by the club secretary.

See also New Business section above

Looking ahead:

Next club meeting is scheduled for Monday, March 13th, 2017

If you'd like to present a program, please talk to an officer at a meeting or sign up at this link:
http://www.shenandoahvalleyrockclub.org/next_neeting_program/sign_up_to_present_program.php

Anyone can sign up to bring snacks for a monthly meeting by clicking this link:
http://www.shenandoahvalleyrockclub.org/next_meeting_info/sign_up_to_bring_refreshments.php

Be sure to keep up with our website www.shenandoahvalleyrockclub.org and our Facebook page Shenandoah Valley Gem and Mineral Society for updates and information.

❖ ❖ ❖

Volunteers for Refreshments, 2017:
February: TBD <<--NEED A VOLUNTEER!!
March: TBD <<--NEED A VOLUNTEER!!
April: TBD <<--NEED A VOLUNTEER!!
May: TBD <<--NEED A VOLUNTEER!!
June: TBD <<--NEED A VOLUNTEER!!
July: N/A - Club Picnic
August: TBD <<--NEED A VOLUNTEER!!
September: TBD <<--NEED A VOLUNTEER!!
October: TBD <<--NEED A VOLUNTEER!!
November: TBD <<--NEED A VOLUNTEER!!
December: N/A - Club Christmas Dinner

Deborah Grimm, Secretary

❖ ❖ ❖

Club Officers and Staff 2016-2017
President – Michael Pabst
Vice President – Leo Cloutier
Show Co-Chairs – Dean Hostetter/Scott Gregory
Educational Outreach -- Deborah Grimm
Secretary/Newsletter -- Deborah Grimm
Field Trip Coordinators - Wayne Petersen/Scott Duresky
Treasurer – Scott Gregory
Web Site Coordinator – Jack Glenn

Club web site: shenandoahvalleyrockclub.org
Club Facebook page: https://www.facebook.com/ShenandoahValleyGemMineralSociety
Club email: svgem-min-club@live.com