News Received From Members
From SS 8/23/17
Good afternoon everyone,


Registration is now open for this year's Virginia Geological Field Conference (VGFC)!

This year's Saturday field trip will focus on the Precambrian geology in the Blue Ridge anticlinorium in Albemarle County (Charlottesville area):


GEOLOGY OF JEFFERSON'S COUNTRY: A BLUE RIDGE TRAVERSE ACROSS ALBEMARLE COUNTY
Leaders: Christopher M. Bailey, Megan E. Flansburg, Katherine E. Lang, College of William & Mary; Thomas H. Biggs, University of Virginia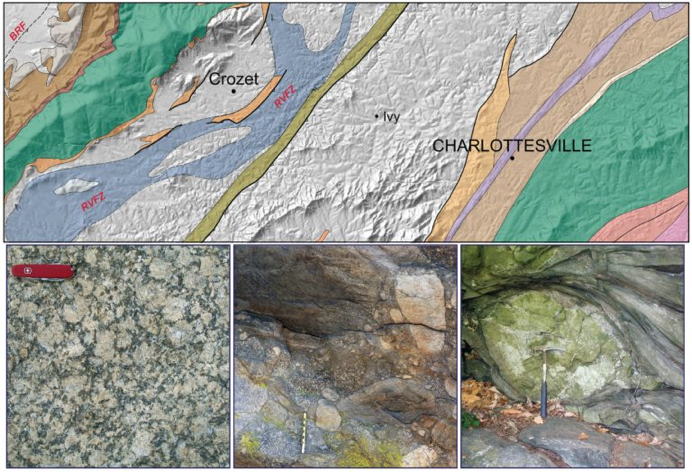 As always, there will be a Friday VGFC meeting and presentation at 6:30 pm, with the field trip commencing on Saturday at 7:30 am.

This year, we have something special for students: on Friday afternoon from 3-6 pm there will be a Career Exploration and Mentoring Workshop open to all students from two-year and four-year colleges and universities. The workshop will include sessions on resume/cv/cover letter creation, interviewing skills, and an open panel discussion with geoscientists who work in a variety of professional settings. This is a great opportunity for students embarking on professional geoscience careers, and it is included with your registration!

More information and a registration link can be found at the VGFC webpage:

http://vgfc.blogs.wm.edu/2017-conference/

We look forward to seeing you there!

- Steve, Kenny, Mark, Robin, Chuck, Megan, Katherine, Tom, Karen


From SD 5/12/16:

From communication received from Gem and Mineral Society of the Virginia Peninsula:

We have a field trip scheduled rain or shine for Saturday October 28th for fossil collecting on the beach in Spring Grove, VA. As far as I know, there is not a cap, so please send me an email with the names of people that would like to attend by October 21st. I am working on some other field trip options, but I have had no luck so far. The details of this field trip are below:

Pipsico Boy Scout Reservation Fossil Dig – 1 hour drive from Sandy Bottom Nature Park in Hampton, VA
Saturday October 28th – 9AM until the afternoon (at your leisure). This field trip will happen rain or shine, so please plan your field clothes accordingly! There is a $5 collecting fee and a wavier will need to be signed prior to entering the
Location: Pipsico Boy Scout Camp Reservation, 57 Pipsico Road, Spring Grove, Virginia
Details: Opportunities to collect fossils (sharks teeth, scallop shells, coral, etc). Sunblock and bug spray are highly recommended, as well as bottles of water and snacks. Please bring your own bags and tools for collecting. Camping is allowed the night before if anyone is interested ($5 per night). We are allowed to camp from Friday to Sunday.
I suggest bringing a variety of clothing (for rain, cold, etc.), and food on this trip. I will be bringing a cooler full of bottled water.

Below are some locations where free fossil collecting is allowed in our region, but you will have to pay a park entrance fee.

Calvert Cliffs State Park, 10540 H G Trueman Rd, Lusby, MD 20657 (1.8 mile hike to beach for collecting, collecting beneath the cliffs is prohibited)
Westmoreland State Park, 1650 State Park Rd, Montross, VA 22520 (park has "fossil beach" for collecting)
Chippokes State Park, 695 Chippokes Park Rd, Surry, VA 23883 (can collect anything on the surface of the beach, no digging)

Please let me know if you have any questions.

Sara B. Phillips, GMSVP President & Field Trip Coordinator


From SD 4/3/16:

I wanted to thank all of you for coming out to the Rock Rappers meeting at Wayne and Brenda's house in Ruckersville on Thursday, March 24th - Wayne and Brenda, thank you so much for hosting!

For everyone else, we've now had three of these meetings, and I can tell you that the last two were among the most fun I've ever attended, including many at Betsy Martin's house when I was a member of the Richmond Club. I can't confirm yet where the next meeting will be, but it will be held on Thursday, May 19th at either Will's house in Ivy, or Wayne and Brenda''s house in Ruckersville. (We've decided to go with once every two month meetings of our new group).

By next week's Club meeting, we should know where the next Rock Rappers meeting will be, and about a month out, I'll send the first of two reminder notices, requesting confirmation that you will be attending.

At these meetings, we'll be looking through microscopes, looking at and talking about rocks and minerals, and checking out each other's lapidary work - "Rock Rappers" covers a lot of ground! But the main thing is to come and have fun, so set your calendars, and let's do this thing again next month!


From SD 2/26/16:

Fellow friends and mineral enthusiasts -

I wanted to thank everyone who attended our second Rock Rappers' meeting at Will's house last night, and Will, I wanted to thank you and Lorna in particular for being such wonderful hosts, especially since you were busy making preparations for going out of town this weekend. It seems that everyone who attended last night (Charlie, Jay, Kevin Wayne and Brenda and Will) had a really great time in spending time with each other, and in looking at minerals , and I can say personally that I never had as much fun in the several years that I spent driving into Richmond to attend Betsy's group, whose format is the basis on which ours was founded.

Wayne and Brenda, thank you very much for offering to host our next meeting in March at your home, and following our normal format, it will be held on Thursday evening in the week following the regular Club meeting. That would make it on Thursday, March 24th at 7:00 P.M., and if you could confirm that with me, along with providing me with your address and directions to your house, I would really appreciate it. Please let me know if I need to once more bring a card table or some chairs, and Kevin, if you could bring along a few refreshments again, that would be great. In the meantime, I will not only continue to go through my micros to ensure that everyone has new freebies to take home with them the next time we meet, but I'll see if Michael Pabst has some extras that he can provide to us.

In the meantime, I'll be looking into the possibility of a field trip to Sugar Grove before the weather gets too warm, coordinating it with Dean and Scott Gregory, even as I get more information about their proposed trip to the Dixie Mine. In addition, I'm going to look into the possibility of a field trip to the Stanley, VA area for the great cutting material to be found in the streams there, and Wayne, you might have some ideas of your own about a possible trip to the Rose River in Madison County, before the tick population flares up again. Obviously, there's lots to talk about, and lots to look forward to in the future. Stay tuned, folks - we're just getting started!


From WP 2/27/16:

We have put Thursday March 24 in our calendar to meet at [redacted for privacy protection - see email sent to Rock Rappers' attendees for details]. GPS will get you here, if anyone does not have GPS and needs specific directions I can provide them, just let me know. You do not need to bring any tables or chairs, we have them. The only thing you or other members might want to bring are microscopes. We do not have any.

I also have plenty of trading material, if anyone is interested in trading, bring what you want to trade. My trading material comes from ME, KY, NY, NC, and VA mines. I also have plenty of material for people to look at but BYOR (bring your own rocks) too.

Brenda mentioned maybe doing a Rock Rappers and a Rock Wrappers at the same time. If some of the people wanted to wrap rocks, she has a place and tools to do that. Lorna seemed interested in the jewelry, and I know Shayna is very good at this, just an option.

We almost stopped at Sugar Grove, WV last fall on our way to a KY agate mining trip, we would be interested in going there. Still want to go to Chestnut Ridge, even if by myself.


From SD 2/27/16:

This sounds great, Wayne! And I would be very interested to hear about your collecting experiences, and to look over the trading materials that you have. What I may have to trade comes from various world-wide localities and the Southwest, so what we've managed to acquire may not overlap much.

Again, we all appreciate your willingness to host our next meeting, and it's exciting to see you willingness to learn about this entirely new dimension of our hobby. In the meantime, I will definitely be looking at my calendar with regards to the proposed Sugar Grove field trip, and at our next meeting, we can definitely bring up with Dean the possibility of going to Chestnut Ridge. Between those two localities, and the other ones I suggested, we just may be able to offer new opportunities for our members to get out there and collect in the field, which, after all, is a reason why many folks join in the first place. Thanks again!


From JG:
Here is a page from the Online Mineral Museum focusing on mineral specimens from Virginia: http://www.johnbetts-fineminerals.com/jhbnyc/mineralmuseum/gallery2.php?init=&loc=Virginia


From JG:

Rock & Gem Magazine has a good Facebook page here: https://www.facebook.com/RockandGem


From JG:

Earth's most abundant mineral finally gets an official name - see here.
From JG:
An interesting blog post about "phenomenal" stones such as labradorite and moonstone can be found here.


From JG:
A Pinterest site called Beautiful Rocks! more than lives up to its name - for some stunning mineral specimen pictures, take a look here.


From JG:

During our field trip to the JMU Mineralogy Lab and Mineral Museum, we were made aware that an extensive web site project to document the museum's collection has been completed and put on-line.

It will be well worth your time to take a look at the results of 18 months' worth of web development and photography. World class!

James Madison University Mineral Museum

Additional information:
The James Madison University Mineral Museum is located in Memorial Hall, near entrance E. (Grace St. side of building).

The museum is open to the public Monday through Friday from 8:00am to 4:30 pm.

The museum features over 600 crystal and gemstone specimens from around the world; they are arranged in the following displays:

Systematic Collection – arranged by chemistry and structure
Locality Collections – Elmwood, TN., Virginia Minerals
Fluorescent Mineral Display – Franklin & Sterling Hill, New Jersey – minerals glow under ultra-violet light