February 2017 Program Information
February 2017 Program
Mike and Karen made a recent trip to Paris, France where they got to visit a couple of world-renowned mineral museums.

He showed some photographs of some of the largest mineral specimens to be in any collection anywhere in the world.

They visited the National Museum of Natural History (mineral section) and saw some enormous specimens, which also included some items from centuries ago.

The museum opened in 1635, and included a 136 carat faceted sapphire of Louis XIV, the very first study specimen (type specimen) of dioptase from 1797, samples from the Father of Mineralogy – Rene Just Hauy, a 20" sample of crocoite, a 1 foot sample of gold filigree, and many others. Many of the world's old-time mineralogists have studied here.

Unfortunately, no cameras were allowed in the University of Pierre and Marie Curie, but Mike overcame that obstacle by using scanned photos from a book published by Pierre and Nelly Bariand (who took photos of micros using a regular film camera in the 1960's).

Those photos were beautiful and included a mineral with 6 protruding pyramids extending out of a central cube – cumengeite epitaxial on boleite – 3.5 cm across.

The third museum of the School of Mines was closed, so the members suggested he go again so we can enjoy more of his photos!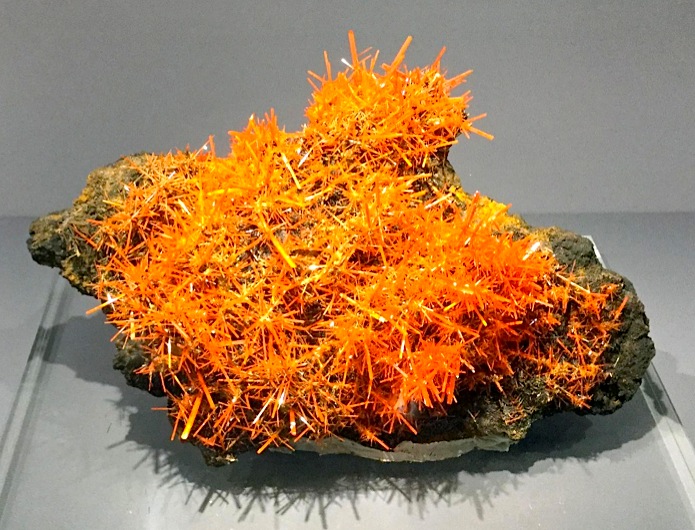 Crocoite (PbCrO4) from Dundas, Tasmania from the National Museum of Natural History, Paris. Photo by Michael Pabst.

Michael has generously shared his presentation photos with the club web site. They can be viewed here.