April 2017 Meeting Minutes
Minutes of the Meeting of Shenandoah Valley Gem and Mineral Society
Meeting date: April 10th, 2017

Intro:
President Mike Pabst called the meeting to order. There were 26 members and 5 visitors present.

Old Business:
1. Charlie Rhodes will try to open the lapidary shop on the 3rd weekend after our regular club meeting. The shop is generally open on the Saturday after the meeting as well. The Events at a Glance page will help you keep track of these dates.

2. Wayne gave some information about the upcoming field trip to KY. He reminded us about tools to take and other necessary items.


❖ ❖ ❖

New Business:
1. Reminder of club picnic in July. Need to check on availability of the pavilion at Coyner Park.

2. There was a discussion of future meeting subjects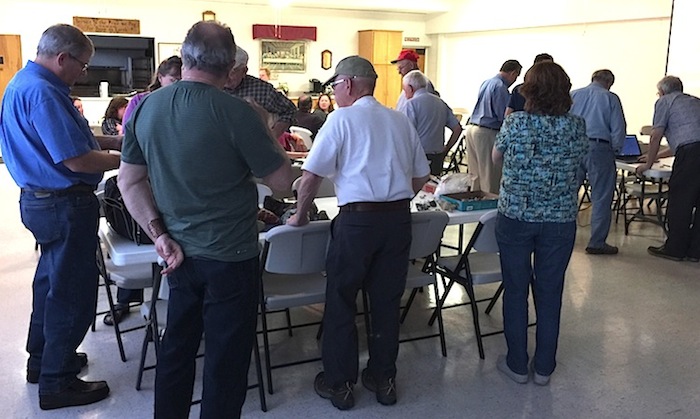 Program Report:
Scott Duresky and Mike Pabst presented a shortened version of a program they presented at the 50th Annual Micromounter Conference held in Washington, DC.

The topic was "Newly Identified Members of the Microlite Group from the Historic Rutherford Mine Pegmatite #2".

The Rutherford mine was closed in 1998 after a historic run of producing many minerals used worldwide.

Mike's expertise at photographing the minerals helped us to actually see the minerals that Scott referred to in his talk.

We enjoyed seeing photos of chlorophane, helvine, tourmaline, pink fluorapatite, spessartine, and microlite.

Some of the minerals could only be identified using various methods of elemental analysis and structural analysis – by use of EDS (energy dispersive spectroscopy), raman spectroscopy, and X-ray diffraction.

In some cases, a mineral may be different from a similar species by a only a small percentage of one or two elements.

For example, if there is more tantalum than niobium, the mineral is one of the microlite species, whereas if niobium is greater than tantalum, the mineral is a member of the pyrochlore group.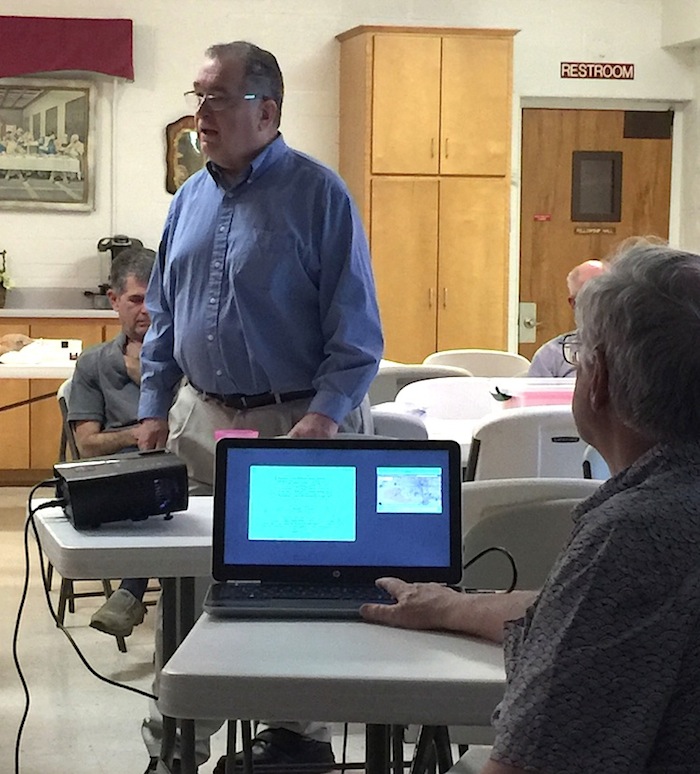 Field Trip Info: Check out information here. Wayne is working on a few trips – perhaps Rose River in May and to see a lady in mid-summer who is from Malaysia who collects minerals from many countries.

Details will follow in the Field Trips Newsletter later.

Looking ahead:
Next club meeting is scheduled for Monday, June 12th, 2017

If you'd like to present a program, please talk to an officer at a meeting or sign up at this link:
http://www.shenandoahvalleyrockclub.org/next_neeting_program/sign_up_to_present_program.php

Anyone can sign up to bring snacks for a monthly meeting by clicking this link:
http://www.shenandoahvalleyrockclub.org/next_meeting_info/sign_up_to_bring_refreshments.php

Be sure to keep up with our website www.shenandoahvalleyrockclub.org and our Facebook page Shenandoah Valley Gem and Mineral Society for updates and information.

❖ ❖ ❖

Volunteers for Refreshments, 2017:
February: TBD <<--NEED A VOLUNTEER!!
March: TBD <<--NEED A VOLUNTEER!!
April: TBD <<--NEED A VOLUNTEER!!
May: TBD <<--NEED A VOLUNTEER!!
June: TBD <<--NEED A VOLUNTEER!!
July: N/A - Club Picnic
August: TBD <<--NEED A VOLUNTEER!!
September: TBD <<--NEED A VOLUNTEER!!
October: TBD <<--NEED A VOLUNTEER!!
November: TBD <<--NEED A VOLUNTEER!!
December: N/A - Club Christmas Dinner

Deborah Grimm, Secretary

❖ ❖ ❖

Club Officers and Staff 2016-2017
President – Michael Pabst
Vice President – Leo Cloutier
Show Co-Chairs – Dean Hostetter/Scott Gregory
Educational Outreach -- Deborah Grimm
Secretary/Newsletter -- Deborah Grimm
Field Trip Coordinators - Wayne Petersen/Scott Duresky
Treasurer – Scott Gregory
Web Site Coordinator – Jack Glenn

Club web site: shenandoahvalleyrockclub.org
Club Facebook page: https://www.facebook.com/ShenandoahValleyGemMineralSociety
Club email: svgem-min-club@live.com