January 2015 Meeting Minutes
Minutes of the Meeting of Shenandoah Valley Gem and Mineral Society
January 12th, 2015

Intro:
Our new President, Michael Pabst, called the meeting to order at 7:30pm. There were 20 members present, and 6 visitors. Dues for the year were collected by Scott Gregory, club treasurer.

Old Business:
Thanks to our webmaster, Jack Glenn, for his awesome work on the Facebook page and website, http://shenandoahvalleyrockclub.org. Thanks to Dean Hostetter for being an outstanding club president. And kudos to our past secretary, Bob Helt, for all his great work.

New Business:
1. Suggestions for future meeting topics and field trips were presented by various attendees. The list includes –

An open house to view micro-minerals at the home of the president
A wire-wrapping class produced concurrently with a Rock Shop session on a Saturday in the spring
A class on photographing minerals
An overnight trip to the U of DE to visit their mineral museum, with a side trip to collect fossils
A visit to the Gray Fossil Site & Natural History Museum in northeast TN
A visit to the fossil site at Carmel Church Quarry in Caroline County.
Please let club officers know of any other ideas.

2. Past president Dean Hostetter proposed that we write a formal set of club bylaws to describe the club's operations, rules and regulations since our membership is increasing. We also need to look legitimate to the IRS and the Virginia Corporation Commission.
3. If you'd like to bring light refreshments for the social time before the official meeting (moved by acclamation to 7:00 pm), you may sign up at the meetings on this page on the club's web site: http://www.shenandoahvalleyrockclub.org/next_meeting_info/sign_up_to_bring_refreshments.php
4. If you'd like to present a program, please talk to an officer at a meeting or sign up on this page on the club's web site: http://www.shenandoahvalleyrockclub.org/next_neeting_program/sign_up_to_present_program.php


❖ ❖ ❖

Program Report:
"Zooming in on Microminerals" presented by Club President, Michael Pabst.

Michael presented an awesome program with photos he'd taken of microminerals. He has been doing this for many years using a stereo microscope and digital camera. He explained that FOV means "field of view". He showed photos of a right-angle pyrite thread less than 1 mm high, and beautiful crystals of blue nevadaite that were less than 0.1 mm tall.

The second part of the program was on radioactive minerals, one of which is black uraninite or pitchblende. When uraninite is exposed to oxygen and water, secondary uranium minerals form. These minerals were stunning, with brilliant orange, yellow, and green colors.

Mike collects minerals from the US and around the globe, and has been nationally recognized. He suggested that we use the website www.mindat.org to see photos and descriptions, as well as locations of thousands of minerals.

You can see some of Mike's photos on our own Shenandoah Valley Gem and Mineral Society website – check them out – you will be amazed at what you can see with a little help from the right equipment!

Go to www.shenandoahvalleyrockclub.org. From the homepage, browse: Links & Resources > Interest Groups > Microminerals > Microminerals Gallery. Or click here!

Photo from the presentation: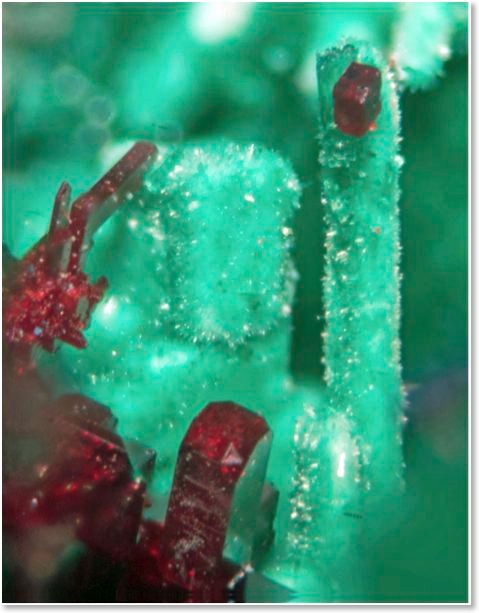 Cuprite (red), which is copper oxide, and Malachite (green), which is copper carbonate, from the New Cliffe Hill Quarry, Stanton-under-Bardon, Leicestershire, England. FOV = 2 mm.

❖ ❖ ❖


Notes from The Rock Shop, January 2015:
The Rock Shop was open for its monthly session on Saturday, January 17th, 2015. Your correspondent was out of town on that date, so no detailed notes on activities are available.

Prior to the session, some further environmental 'upgrades' were added, including:

A coat tree for winter coats
A shelf to store Titan accessories
A second shelf to store other items
A padded footstep to help put users at a comfortable height to use the Titan (if needed)
The second Titan lamp (which was inadvertently omitted from the original shipment) was installed - that gives us 2X 75-watt equivalent LED lamps to light your way to lapidary success!

For those of you not familiar with the Diamond Pacific Titan, here are the detailed specifications:

3⁄4 HP 115/230V industrially-rated motor on 16" x 42" Formica baseboard
Double pump Spra-Mist coolant system
Cast aluminum quick-change hoods & pans
One 80 grit & one 220 grit 7-5⁄8" x 2" Galaxy metal-bond diamond grinding wheels
Four 7-5⁄8" x 2" Nova resin-bond diamond sanding & polishing wheels (one each 280, 600, 1200 and 3,000 grit)
Two 24" flex-stem lamps
One 5-1⁄2" 14,000 grit Diamond Nova Disc
Special disc geyser for Diamond Nova Disks
Cabochon-making rest
Set of two splash guards
Sample bottle of Water Aid
Manual & safety goggles

This machine will enable you to take a a rock slab and turn it into a finished cabochon in short order!

Plans were in place to do some additional work on the 14" slab saw after the session to further improve its feed mechanism.

The Frantom unit that has been our second cabbing machine previously is now repurposed as a "polishing machine" with felt and cerium belts on the two available expandable drums. This gives you a couple of new options for polishing materials that may bring about better results than previously.

The next Rock Shop date is Saturday, February 14th, 2015 9:00 AM - 12:00 PM. The facility is open to all members and free to use (but we ask for a contribution to the Repairs and Supplies Tip Jar on the central bench if you can make one)

Thanks,
Jack

❖ ❖ ❖

February meeting: Monday, February 9th at 7:30 PM
(Socializing and refreshments at 7:00 pm)
Waynesboro Church of the Brethren
364 Bridge Road
Lower parking lot—Side Door entrance!

Program: Speaker: Tom Tucker, "The Yellowstone Region - Too much Geology"

Refreshments: SVGMS volunteer

Volunteers for Refreshments, 2015:
February: SVGMS volunteer
March: TBD <<--NEED A VOLUNTEER!!
April: TBD <<--NEED A VOLUNTEER!!
May: TBD <<--NEED A VOLUNTEER!!
June: TBD <<--NEED A VOLUNTEER!!
July: N/A - Club Picnic
August: TBD <<--NEED A VOLUNTEER!!
September: TBD <<--NEED A VOLUNTEER!!
October: TBD <<--NEED A VOLUNTEER!!
November: TBD <<--NEED A VOLUNTEER!!
December: N/A - Club Christmas Dinner

Deborah Grimm, Secretary

❖ ❖ ❖

Club Officers and Staff 2015
President – Michael Pabst
Vice President – Leo Cloutier
Show Co-Chairs – Dean Hostetter
Educational Outreach -- Deborah Grimm
Secretary/Newsletter -- Deborah Grimm
Field Trip Coordinator - Dean Hostetter
Treasurer – Scott Gregory
Web Site Coordinator – Jack Glenn

Club web site: shenandoahvalleyrockclub.org
Club Facebook page: https://www.facebook.com/ShenandoahValleyGemMineralSociety
Club email: svgem-min-club@live.com