The 50th Annual SVGMS Gem, Mineral & Jewelry Show
Preliminary Information - Check back for additional updates!
===>>> Download the show flyer HERE <<<===
The show will be held Friday - Sunday, September 22nd - 24th, 2017


The show will feature:
✓
Exhibits from SVGMS members & vendors illustrating the beauty & fascinating aspects of the rocks & minerals found in the Shenandoah Valley & around the world


✓
Retail sales of rocks, gems, & jewelry from numerous vendors from around our region (Scroll down for the list of vendors)


✓
A 'treasure hunt' for the wee folks - let the kids hunt for actual gem materials! This year, the youngsters might find:

Apatites
Aquamarines
Blue Topaz
Copper Nuggets
Corundum (Green Sapphires)
Emeralds
Fossils
Garnets
Herkimer "Diamonds"
Peridots
Pink Spinels ("Balas Rubies")
Tourmalines
Other surprises???

✓
A flat lapping display & discussion area - There's more than one way to polish a rock!


✓
A rotary tumbling display & discussion area - Find out why patience is the key ingredient


✓
Panning for gold! Demonstrations will be presented by The Central Virginia Gold Prospectors


✓
Ever wanted to see how mineral spheres get made? Check out the process firsthand from a club member who specializes in sphere-making!!


✓
A cabochon-making display/discussion area - see how you can turn rocks that interest you into polished stones


✓
Video presentations on rockhounding & lapidary topics. This year's presentations will include:

"What's Hot in Tucson 2016"
"New Crystal Hunters: Pala"
"New Crystal Hunters: Smoky Hawk"
"New Crystal Hunters: Arkansas"
"The Adelaide Mine - Tasmania"
"The Mineral Explorers" Season 2 episodes


✓
Door prizes contributed by our vendors & members drawn for hourly (all 3 days)


The show will be presented at:
The Augusta Expo
277 Expo Rd,
Fishersville, VA


Hours:
Show hours

Google Maps location:
http://goo.gl/maps/o14Pk
Aerial view: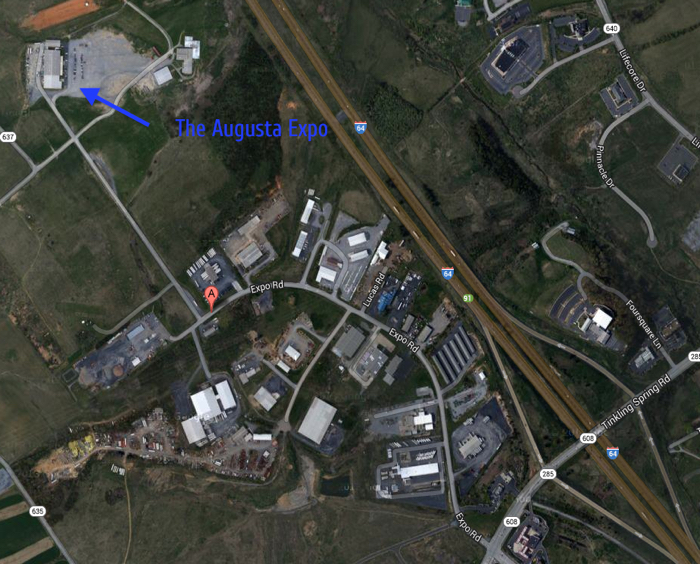 Admission:
Admission is $3.00 for Adults
❖
$2.00 for Students & Seniors
Children age twelve & under & Scouts in uniform admitted FREE


Currently scheduled exhibitors include:Lost Cove Minerals - Marion, NC
Canton Collectibles - Martinsburg, WV
Velima's Crafts & Varieties - Bristol, VA
AGQ Design - Broadway, VA
Excalibur Mineral Corp. - Charlottesville, VA
DayDream Designs - Troy, VA
Rocks into Gems - Dayton, VA
Great Opals - Raleigh NC
Jewelry By DeiSign - Beverly Beam
Higher Self Connection - Fayetteville, WV
Morgan's Jewelry - Kingsport, TN
Parallels (Horizon GIfts) - Harrisonburg, VA
The Crystal Connection - Charlottesville, VA
Sterling Flame Jewelry - Lynchburg, VA
Gem Smith - Richmond, VA
Dragonfly Beach - Staunton, VA

Be sure to check back here for updates to the scheduled exhibitors list!

Download Show Flyer here
Vendor Inquiry available here